Guidance for Authors
Click here for details of how to deposit your research in STORE and all the research support services offered by the library
REF (Research Excellence Framework) Update - important changes
A new REF open access policy came into effect on 1st April 2016 that concerns all staff publishing articles or research which may be entered into the next REF assessment. 
To be eligible for REF submission authors must deposit all new journal articles and conference papers into an institutional Open Access repository within 3 months of first publication (online or print - whichever is first).  
This will change by April 2018 to be within 3 months of acceptance by the publisher. In preparation for this requirement we would like the Author's Accepted version of your research to be deposited in STORE http://eprints.staffs.ac.uk as soon as feasible after being accepted by the publisher
Please use the following form to submit your research for STORE
.
There has been a bit of debate within the academic community about exactly which version this refers to because publishers often use their own terminology to describe it. Here is the official HEFCE diagram showing what they consider to be the version that can be entered into the next REF assessment: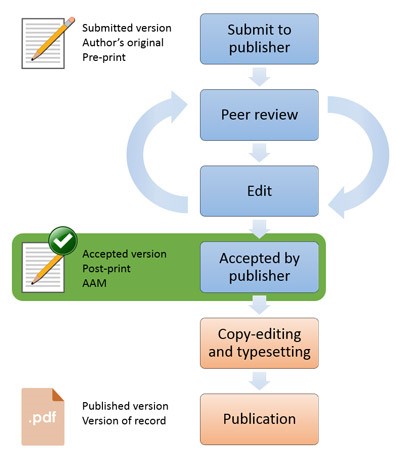 Other terminology also used for the Authors final accepted version include:
Accepted Author Manuscript (AAM)
Final Author Version (accepted manuscript)
• Author Generated Postprint
Author's Final Peer-reviewed Manuscript
Final Peer-reviewed Draft
Accepted (peer-reviewed) Version
The above terms all refer to the version which we can accept into STORE, although it will then usually be subject to an embargo period before it becomes freely available. Embargo periods usually range between 6 -24months. The library will check this and then activate the article on your behalf.
There are a few Academic Journals, which do allow the Published (typeset) version to be stored but these are usually fully accessible Open Access Journals – we will inform you if this is the case. 
Additionally there are few journals, which do not allow the Accepted version to be stored at all or impose an embargo which is too long to meet the REF criteria. You may wish to check before you submit your work to these journals as it is possible that HEFCE may not allow these articles to be entered into the next REF. Check at the JISC SHERPA service: http://www.sherpa.ac.uk/romeo/search.php
Guide to adding your research to STORE
What can I upload?
The University has an Open Access mandate, which requests that staff and researchers upload a copy of their research into STORE. The version required is the ACCEPTED version (or Post-Print) -see below for more details.
There is more information about the University Open Access policy on our Open Access support guide.
N.B. Not all articles can be made publicly available straight away, if there is an embargo or copyright restrictions we will still upload the article but restrict access to University staff.
Versions and Permissions:
Most publishers allow the author's SUBMITTED Version (Pre-Print) of the paper/article before peer review.
Most publishers also allow an author's ACCEPTED Version (Post-Print), which is the version that incorporates referee comments, but often there is an OA embargo of between 6 and 24 months
Most publishers, however, will not allow the PUBLISHER created PDF versionto be uploaded. Even though the content will be the same as the ACCEPTED (Post-Print) version
SHERPA OA compliance tools
If Sherpa does not answer your copyright question please contact the Library Repository team at
store @ staffs.ac.uk
Benefits
Staffordshire University is committed to making all research at the university publicly available and searchable. Benefits of Open Access include:
Increased exposure of research via Google, RSS feeds and other search services.
Increased citation.
Digital preservation of scholarly output.
Increased funding opportunities where conditions require Open Access.
Enhances and promotes the growing body of free quality academic research.
Raising the research profile of Staffordshire University
Copyright
Placeholder
Research Funders and Open Access Publishing
Placeholder